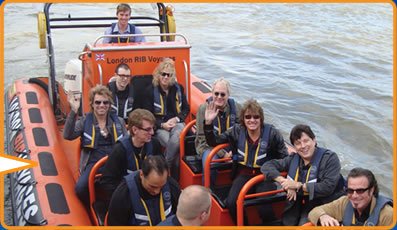 If you and your children are visiting London this year for a vacation, you are in for a great time.  Despite being a major city with no great outdoor activities, London offers so many action packed things to do, with its immense parks, the gorgeous river Thames, and of course the history threading through every beautiful building.
Londoners have managed to transform every space in our city into fun activities to raise your little ones blood pressure, and even grandmother as well if she is coming along. 
Here are our top 5 activities to keep your family very entertained!
London RIB Voyages
These supercharged speed boats are a sight to behold as they zoom down the river Thames at 35 knots.  This is not for the faint hearted, as it is packed with adrenalin adventure, and guarantees you will see London in a very different and speedy way.  In fact this is like a speed boat tour of London, so if you like your day to go fast, this is the ultimate choice.
They have many different routes, all departing from the London Eye every hour, 7 days a week, all year round.  Their boat guides are also on the boat to keep you entertained with sparking conversation on the way.  Visit their website http://www.londonribvoyages.com to see all routes.
London Duck Tours
Do you like Ducks? Well you can tour central London landmarks in a big yellow amphibious vehicle that was half boat and half truck.  These vehicles were used originally to transport soldiers in the second world war by land and sea, and they have now been transformed into bright yellow trucks for your pleasure.  Forget a boring bus tour, this yellow duck tour will take you around all of central London.  Visit their website http://www.londonducktours.co.uk/ to see all routes.
Harry Potter London Bus Tours
If your child or even you love Harry Potter, these bus tours are the ultimate Harry-Heaven!  The 3 hour coach tour will take you to see all the film locations throughout London including Kings Cross Station, site used for the Leaky Cauldron, the location used for the Ministry of Magic, get a photo pushing a trolley through the wall at platform 9 ¾.   During the tour you will also learn even more about magic, how these wonderful Harry Potter films were made, and even be tested on your Harry Potter knowledge.  Visit their website http://britmovietours.com/bookings/harry-potter-london-tour/
London Zoo
When was the last time you came to face with a big roaring tiger?  At the London Zoo, you can now visit their brand new Tiger Territory where you and the sweet little ones can come face-to-face with beautiful tigers through the floor-to-ceiling glass windows!  It will feel as though you and the tigers are in the same room.  This will set the family's pulse racing for sure! Visit their website for opening times and prices http://www.zsl.org/zsl-london-zoo/exhibits/tiger-territory/
Queens Ice Skating and Bowling
If all the above activities are still not enough for you fun lovers, why not trying some ice skating as well?  At Queen's Ice and Bowl in Bayswater W2, you can ice skate, bowl, karaoke all in the same building and even all in the same day.  The ice rink has state of the art colour change lighting and even special effect light shows.  Visit their website to find out opening times and prices http://www.queensiceandbowl.co.uk/
We hope you will come to London for a well earned family holiday.  There is just so much to do and new places to discover.  If our friendly team can help you with any information, or serviced short let London apartments, please do give a call on 0044 (0) 207 476 8963 or visit our website to view some of our apartments www.qualitylondonapartments.com
Binh Zientek
Serviced / Short Lets Apartments Specialist
Tel: +44 (0)20 7476 8963
Official Company Websites:
www.qualitylondonapartments.com