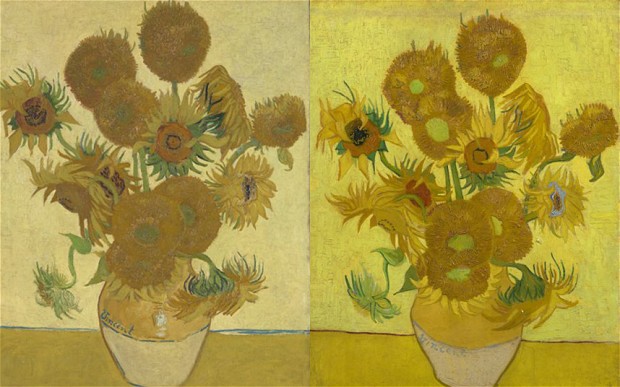 This is a real treat for me, as I am an avid lover of Van Gogh's work.  At the National Gallery in London, there are two versions of Van Gogh's Sunflower, one from National Gallery and the other one is on loan from the Van Gogh Museum in Amsterdam.  This once in a lifetime exhibition is only from 27th January to 27th April 2014, and it is free admission.
Van Gogh painted four paintings of sunflowers between August 1888 and early 1889, during his stay in the Yellow House in Arles, South of France.  During this time, Van Gogh invited the other celebrated artist Gauguin to stay with him in Arles and start an artist community, and these sunflower paintings were intended to decorate Gauguin's room.
Van Gogh was a prolific and intense painter, and in a burst of energy, he completed four paintings on the sunflower theme culminating in an unforgettable collection of gold and yellow which needs to be seen live to understand their power and impact. 
His paintings are unique, almost childlike in their representation of the world, but show his reverence and delight in the simple things around him: such as a sunflower.
The sad thing is that, the summer of 1888 did not end well between Van Gogh and Gauguin, as their strong personalities inevitably clashed. After the relationship breakdown, Van Gogh suffered a nervous breakdown and mutilated his left ear.
The vibrancy and emotions in the sunflower paintings really do still jump out at me, as they did many years ago during a previous visit.  Their power do not diminish, and to be treated to two versions in one place, is really a once in a lifetime event.
I highly recommend if you are visiting London during January and end of April 2014, do make your way to this once in a lifetime exhibition, all for FREE at the National Gallery. 
If I can help you with holiday London apartments, please do call me on 0207 476 8963 or email sales@qualitylondonapartments.com to tell me your requirements.  Happy to help!
Binh Zientek
Serviced London Apartments Specialist
Tel: +44 (0)20 7476 8963
Official Company Websites:
www.qualitylondonapartments.com