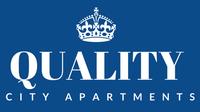 FOR IMMEDIATE RELEASE –
WELCOME TO QUALITY CITY APARTMENTS'  NEW WEBSITE AND BRAND IDENTITY
London based serviced apartment provider Quality London Apartments has undergone a rebranding and is now known as Quality City Apartments.  The transformation includes a new company name, website and logo. Established by Binh Zientek in 2006, the company "operates in a global marketplace to meet the needs of corporate travellers from a wide range of industries, relocation professionals and private individuals". Managing director Binh Zientek said: "The rebrand marks a new chapter for the company, and increases our offer to our global corporate clients who travel throughout the UK and need one provider offering seamless service throughout their stay."
Quality City Apartments is an experienced serviced accommodation provider specialising in providing luxury apartments and temporary homes for corporate and business travellers throughout the UK and London.
After 10 years focusing mainly on the London area, the company has ambitious plans to increase the provision of upmarket, luxury serviced accommodation in all major cities of the UK.  Quality City Apartments work in partnership with over 100 corporate clients who operate in the UK, with these clients making up approximately 90% of our business.
Quality City Apartment's growing collection of serviced apartments offers guests a wide choice, regardless of need or budget spread across the UK. All of the apartments are visited, and inspected by members of our team to ensure they are finished to the highest of standards and safe for our clients.
Quality and service is a key part of Quality City Apartments' business philosophy and providing outstanding customer service is at the heart of everything we do.  www.qualitycityapartments.com
Notes to editors
Further media information: Binh Zientek, Managing Director,  Quality City Apartments T: 0207 476 8963;  E: sales@qualitycityapartments.com